Point of Sale Born in the Beverage Industry
Liquid Assets was built from the ground up by owners in the industry looking for a fresh alternative to the costly, outdated, and PC-based POS systems on the market. It was designed with the goals of building a reasonably priced, simple to use, and extremely efficient point of sale built exclusively for the beverage industry. Why pay thousands of dollars for POS systems with outdated technologies, non-relevant features, and passé design, Liquid Assets is your answer to a better POS, or finally moving away from the old cash drawer.
We're continually evolving Liquid Assets to be the fastest, easiest to use full-featured point of sale on the market. That means we're always focused on adding features designed to add more functionality without sacrificing ease of use. While we believe that
a tablet shouldn't replace your primary POS stations
, we integrate iOS devices where they provide a real benefit. Take a look at our
iOS sneak peek video
for what we have coming soon!
Built For Bars & Nightclubs
Bars & nightclubs are our business. We've built Liquid Assets from the ground up in order to create a totally fresh, revolutionary product. After years of real-world industry use and testing, we built our POS with a direct focus on only features needed in a
bar or nightclub
. The result, a simpler, faster, more robust product.
Robust Inventory Management
Liquid Assets is more than just your traditional POS, it includes
advanced inventory managemen
t functions built right in. We're not talking the add a unit here and subtract a unit there inventory you see out there today, but rather complete control to track every ingredient of each product you sell. Start earning more money today!
It's hard enough finding an affordable, simple to use, and bar-focused POS. If you're Mac user, forget it! That is, until now.
Liquid Assets was born on the Mac
and was designed with the simplicity and elegance that one would expect. It's everything you've come to love on a Mac in a powerful, simple-to-use POS.
Built For Speed & Simplicity
We have a rule, every feature we add to the front-end of Liquid Assets must be necessary (or at least useful), easy to use, and fast. We leave out unnecessary "features" which you may find on other POS systems, but will probably never use. The result...a simpler system for employees, dramatically reduced training time, and, most importantly, faster transactions. More isn't always better, especially when it comes to the fast-paced environment of a bar or nightclub.
Comprensive Reporting & Costing
While simplicity and speed is our focus on the front end, the management side is equally impressive. With robust reporting, integrated liquor costing, advanced inventory management, and various other management functions, Liquid Assets provides the tools you need to run a profitable and successful business. Compare sales trends, review inventory statuses, manage employees, close credit cards, and much more.
Secure Credit Card Processing
Accepting credit cards is expected in businesses today. Unfortunately, mobile readers and standalone terminals aren't designed for the demanding environment of a bar. Liquid Assets includes built-in credit card processing at competitive processing rates. And, your customer's data is safe as all transactions are transmitted using end-to-end encryption.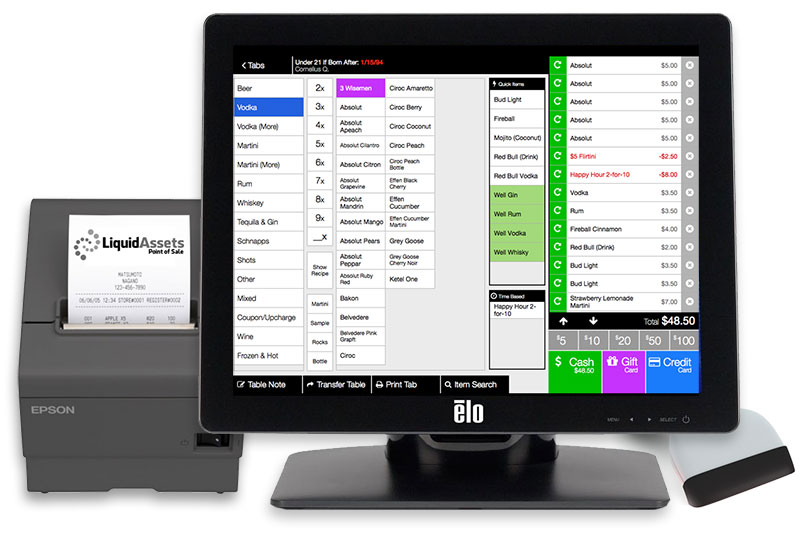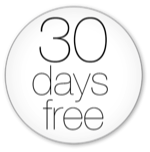 Try It Free For 30 Days!

We know choosing the right POS for your business is an important decision, that's why we're here to make the process as easy as possible! We give you a full 30 days free to try Liquid Assets, provide you with free setup assistance, and even offer full service installation options. Still need more information? Schedule a live demo with us and we'll show you exactly how Liquid Assets can start making you more money!